Conn Garrow, the Girl on the Moon and the Girl on Mars, is now a woman on a mission. Will Conn and humankind be ready for an alien onslaught that's surely coming? Find out in Interstellar Girl, coming soon!
Sign up for Jack's e-mail list and be the first to know when Interstellar Girl is coming out! For a limited time, get a free Kindle copy of Girl on Mars, Girl on the Moon book 2, when you subscribe! If you're reading these words, the offer is still valid. Please allow 24 hours for us to manually send you the Kindle Store download link. Link will be sent to the e-mail address you subscribed. Must be new to the list to get the free book.
Get a free Kindle copy of Girl on Mars when you sign up for e-mail alerts!
"Surprisingly, even better than The Martian."
"Could not put it down, as it took me back to reading Heinlein's juveniles from the 1950s."
"Reminded me of Arthur C. Clarke. I have not enjoyed a piece of science fiction this much in years."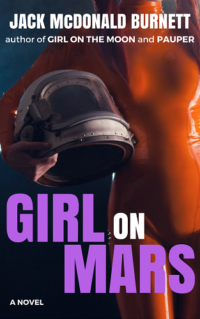 "A great story in the Heinlein tradition that is well written and really entertaining."
"The same compelling qualities that Girl on the Moon has: Good characters, a good storyline, and realistic dialog."
"Wonderfully crafted with multiple plots. I couldn't put the book down."